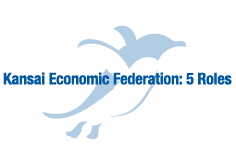 To delineate a future vision and prepare a road map for its realization
For each theme, we will delineate a future vision and roadmaps for the realization of what we want Kansai to be, what Kansai whould be – in which we believe all concerned parties in Kansai ought to strive for as one – as well as courses of action and measures necessary to realize it, and distribute them on all sides to secure a consensus.
To make bold policy proposals / Promotion of their implementation
We will conduct research studies based on the authentic voices of members originating from the field and a perspective that anticipates the times. Based on these, we will offer policy proposals that are mindful of issues being raised and making a splash in the world and that have unique added value on national themes such as economics and finance, the environment and energy, corporate law, and employment and labor, and tirelessly press related parties to achieve them.
To take practical action
For the realization of what we want Kansai to be, what Kansai should be, we will not simply voice our opinions and offer proposals, but also become a concerned party ourselves with the motto "If Kansai Economic Federation does not rise to the challenge, who will?" For each theme, we will consider concrete systems and projects, shape them while calling upon various concerned parties, and put the fruit of those efforts into practice.
To guide consensus development in Kansai and lead region-wide initiatives
Based on the perspective of "One Kansai," we will demonstrate leadership on crucial issues facing Kansai when those times come, adjust the respective expectations of governments and the business world in Kansai and contribute towards consensus building as a region, and lead the united endeavors of concerned parties.
To boost international exchanges with Asia and the world
Based on our resolve to play our part in building close relations between Japan and foreign countries, we will strengthen our mutual connections through forming and reinvigorating networks with countries around the world– especially Asian countries with which we share close historical and geographical connections–and communicate Kansai globally at every opportunity.