News
India: Investment Promotion Seminar and the Meeting with H.E. Mr. Arun Jaitley, Hon'ble Finance Minister of India
2016/06/10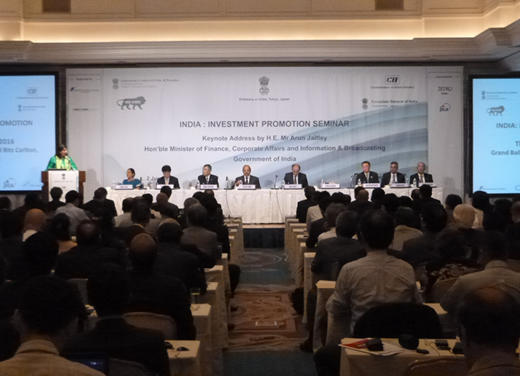 Kankeiren held a seminar "India: Investment Promotion Seminar", inviting H.E. Mr. Arun Jaitley, Hon'ble Finance Minister of India as a lecturer, with Consulate General of India to Osaka-Kobe, Confederation of Indian Industry (CII),JICA Kansai, JETRO Osaka, OCCI, and so on, on June 2, 2016. H.E.Mr. Jaitley appealed a robust economic performance of India.
Mr. Masayuki Matsushita, Vice Chairman of Kankeiren and H.E.Mr. Jaitley discussed several topics such as, future cooperation between India and Kansai, at the dinner meeting after the seminar.
The day before, CII leaders who came to Japan with H.E.Mr. Jaitley, visited a facility related to environmental industry as a Kankeiren Industrial Tour .